Author: Admin | Category: Modern Living | Tags: Sewing Machine
Before you make an investment in a sewing machine for kid you should first have some knowledge of sewing machines and which ones are suitable for kids so that you will be capable of making an educated decision.
Sewing machines can be expensive so you don't want to buy the first sewing machine you see at the store and potentially throw away a lot of money. Your kid won't be able to use just any old sewing machine; in fact, people of all ages have preferences when it comes to which sewing machine they like to use.
Other than the fact that they can all do at least basic sewing, sewing machines are vastly different from each other with their features, versatility, user-friendliness, and performance qualities – just to name a few.
Ask Your Kid
Let your kid have a voice in the matter. Remember that, ultimately, they are the one that are going to be using the machine so they should have a little bit of input on which machine you end up buying.
Yes, it's coming out of your pocket so you shouldn't let them talk you into a machine that is way over your budget and you shouldn't cave in to their pleading for one of the flimsy character themed machines, but you also need to let them feel like they have a relevant opinion in the discussion. Unless the sewing machine is a surprise gift, of course.
What Do Kids Usually Like?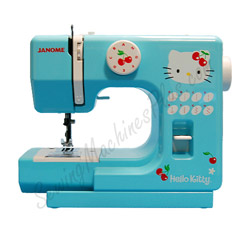 What kids like in a sewing machine can be subjective but generally speaking kids like the bright colored machines, and if they have pictures on them like the Janome Magnolia machine has with flowers in the bottom corner, then that's a bonus. It sounds stereotypical towards kids but if people are being honest, even most adults would prefer a bright colored machine as opposed to a plain white machine.
Janome has a range of machines that are aimed at kids like their Hello Kitty machine. Janome is a high caliber brand so most of their machines are of good standard but you should read some reviews on whichever machine you decide to buy, just in case. Particularly if you decide on one of the aforementioned Janome models that are aimed at kids because machines for kids tend to be of poor quality.
If your kid really loves a machine that has some personality to it but you don't like the looks of the machines aimed at kids, you can just put stickers on the machine. That way you get the machine that you believe is the best quality for the money and your kid still gets to have a cute Hello Kitty design on the machine.
Age Differences
If your kid is only 6 or 7 years old you're going to be looking for different features than the parent of a 10 or 11 year old would be looking for. A kid that is 6 years of age or under is going to feel more confident on a machine that has a few simple features that they're able to understand right off the bat.
But a kid that is around 10 years old and up is going to be eager to try new features after they get used to the machine. At first they may prefer having very few features because it will seem more user-friendly but before long they will want to try different sewing techniques. Also, at this age you might also want to buy a machine that they can grow on.
Things to Keep in Mind

To sum it up, these are the things you should keep in mind when buying a sewing machine for your kids.
User–friendly: This is the most important thing; it surpasses all other matters. User-friendly is an important aspect for everyone, no matter if the person is 5 or 50 years of age. However, with kids it's obviously going to be even more crucial.
Finger Guard: It's easy for a novice sewist to get their fingers in the way of the needle so even if you plan on supervising your kid whenever they're using the machine it would still be wise to have a machine with the finger guard safety feature. It really hurts to stick yourself with a needle so even many adults make a point to avoid machines that don't have a finger guard.
Unfortunately, this could limit your choices a bit, but the reality is that there are so many choices available that your choices being limited might actually be a good thing.
Name Brand: Get a well known name brand machine. You can skimp with many items but sewing machines are not one of them, particularly when it comes to sewing machines for kids because if you end up skimping you will probably end up with one of the cheap models that are very difficult to operate.
08 Jun 2015